Australia asylum needs military solution, says Tony Abbott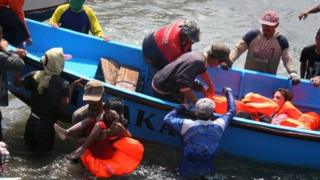 Australia's opposition has called for a military solution to fight people smugglers, as the toll from the sinking of an asylum boat rose to 11.
Opposition leader Tony Abbott said the issue was "a national emergency", and he would ask a military commander to tackle the boats, if elected.
The migrant boat sank off Indonesia's Java island, a transit point for people-smugglers, on Wednesday.
Asylum policy is due to be a key issue in elections this year in Australia.
Australia has experienced a spike in asylum seekers arriving by boat this year.
"There is a national emergency on our borders," Mr Abbott said on Thursday. "That's why we need to have a senior military officer in operational control."
Under the plan, called Operation Sovereign Borders, the chief of the defence force would be asked to appoint a commander to lead operations tackling people smugglers and asylum boats.
The commander would report directly to the immigration minister, creating "a clear chain of command", Mr Abbott said.
Boat arrivals have soared in the past 18 months, with most asylum seekers coming from Iraq, Iran, Sri Lanka, Afghanistan and Bangladesh. They make their way to Indonesia and from there head to Christmas Island, the closest part of Australian territory to Java.
They travel in boats that are often over-crowded and poorly-maintained. Several have sunk in recent months, killing passengers.
Australian aid row
Prime Minister Kevin Rudd, who announced a new asylum policy last week, said Mr Abbott's proposal was no more than "a three-word slogan... Operation Sovereign something-or-other".
Under Mr Rudd's policy, asylum-seekers arriving by boat in Australia will be sent to Papua New Guinea (PNG) for processing, and those whose refugee claims are upheld will be settled in PNG, rather than Australia.
PNG will receive Australian investment as part of the deal.
However, critics have accused Australia of avoiding responsibility and passing on its problem to a developing nation.
Meanwhile, a row has broken out between PNG's Prime Minister Peter O'Neill and the Australian opposition.
On Tuesday, Mr Abbott described Australian aid to PNG as "a free gift", saying "it seems we are basically just handing over cash to the PNG government".
Opposition foreign affair spokeswoman Julie Bishop also said that Mr O'Neill had told the coalition he had "total control over the entire Australian aid budget".
On Thursday, Mr O'Neill told Australian broadcaster ABC that he was "disappointed" with the opposition.
"I don't particularly appreciate being misrepresented by others for their own political interests," he said.
Asylum policy is likely to be an important issue in Australia's federal elections, which must take place by 30 November.
An opinion poll on Tuesday suggested that the opposition coalition led Mr Rudd's Labor party by 52% to 48% after preferences.