Japan police detain 'haiku' killer suspect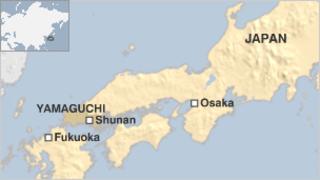 Police in Japan say they have arrested a man suspected of killing five elderly people in a remote mountain hamlet.
The five pensioners were found bludgeoned to death on 21 and 22 July in Shunan, Yamaguchi Prefecture, on the southern end of the main island of Honshu.
Dozens of police using dogs had been searching for the 63-year-old suspect.
He was found in only his underwear on a nearby mountain, Kyodo news agency reported, citing police.
The victims, who ranged in age from 71 to 80, were all residents of the hamlet and included a married couple.
Police found three of the bodies on Sunday in homes that had been torched and two more on Monday.
It was at the suspect's home that police found a haiku-style verse stuck to a window that read: "Setting a fire - smoke gives delight - to a country fellow."
Haiku is a form of Japanese poetry comprising three lines of five, seven and five syllables.
Local reports, however, said the verse had been there for some time.