Viewpoint: What Upper House victory means for Shinzo Abe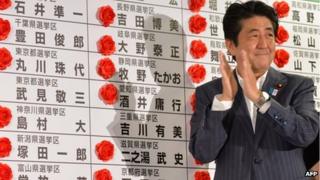 Victory for the governing Liberal Democratic Party (LDP) of Japan in yesterday's Upper House election has boosted the prospect of stable Japanese government for the next four years while increasing the likelihood that Prime Minister Shinzo Abe will be able to pursue an ambitious programme of domestic and foreign policy reform.
Together with its New Komeito coalition partner, the LDP won 76 of 121 contested seats, giving it a total of some 135 seats in the 242-seat House of Councillors; in the more powerful House of Representatives, the LDP-Komeito partnership has a commanding majority of 325 out of 480 seats.
This decisive position means that for at least the next three years, until the next round of parliamentary elections, the ruling conservative bloc should be able to pursue its policy agenda free from the legislative deadlock and obstructionism that have hampered Japanese administrations in recent years.
The past pattern of divided political authority, with Japan's governing and opposition parties controlling respectively each of the two houses of Japan's bicameral national assembly, has contributed to a "twisted" or "distorted" politics, making it almost impossible for Japan's leaders to govern effectively, limiting prime ministerial tenure to a year on average and contributing to the perception that the country is virtually ungovernable.
Mr Abe will now have the rare prospect of an unbroken three or four years in power to implement his reform agenda.
Fickle voters
At first glance the LDP's success is a sign that the electorate wants to give Mr Abe the chance, since winning the Lower House election last December, to build on the success he has had in boosting Japan's economic fortunes, reflected in 4% GDP growth and a 40% rise in the Japanese stock market.
However, while the prime minister is likely to promote his victory as a public endorsement of his policies, he would be wise not to exaggerate the significance of his achievement.
Voter turnout has been steadily declining in Japanese general elections and the latest contest recorded an anaemic 52.6% turnout rate, approximately 5% down on the last Upper House election in 2010.
Japan's electorate is becoming both more discriminating and fickle, with fewer voters strongly identifying with any one party.
Much of the LDP's surge has come from the collapse in support for the main opposition party, the Democratic Party of Japan (DPJ), which lost more than half of its contested seats in this election on the back of widespread public disillusionment with a party that was judged to have overpromised and under-delivered.
The core issues in this election have been primarily domestic, including the health of the Japanese economy; the costs of trade liberalisation (most notably over Japan's likely participation in the Trans Pacific Partnership (TPP)); and the possible restart of Japan's 50 nuclear reactors, all but two of which currently remain inactive as a result of the Fukushima disaster of March 2011.
Mr Abe has adopted a characteristically forthright position on each of these issues.
Promoting the Japanese economy involves a three-pronged combination of ambitious fiscal and monetary easing allied with major structural reforms in areas such as health policy, labour market deregulation, agriculture and taxation and business reform, via the creation of new special economic zones throughout the country.
Yet there are serious doubts about how far these structural reforms can be advanced, not least because of the existence of sceptical anti-reform constituencies within Mr Abe's own party who are likely to have been emboldened by the party's strong showing in the recent election.
Additionally, the prime minister faces a formidable bloc of opposition to his policies from farm workers, the medical lobby, consumer groups opposed to a planned boost in the country's consumption tax (scheduled to rise from 5 to 8% next spring), and public opinion that remains broadly sceptical about the merits of nuclear power.
'Incremental' revision
In foreign policy, Japan's immediate neighbours, most notably South Korea and China, worry that the prime minister may be planning to pursue an aggressively nationalist agenda, encompassing wartime historical revisionism, the abandonment of Article 9 (the so-called "peace clause" of Japan's constitution), and a more belligerent defence of Japan's territorial interests in the East China Sea and the Sea of Japan.
The reality is likely to be more prosaic and less dramatic.
Abe's public rhetoric over contentious wartime issues can at times be insensitive and diplomatically ill-judged, and there is no mistaking the prime minister's personal desire to promote constitutional revision.
However, Japan's public remains largely evenly divided about the merits of re-visiting such contentious subjects and, notwithstanding the LDP's rising political fortunes, the government still lacks the necessary two-thirds majority in the Upper House to effect constitutional revision.
Instead, the Abe administration will most likely concentrate on an incremental approach towards foreign policy, concentrating on widening and deepening its alliance relations, strengthening its national security decision-making apparatus, and relaxing some of the legal interpretations governing Japan's participation in collective security initiatives or the deployment of its Self-Defence Forces overseas.
As a first step, therefore, in allowing the government to focus on reform, Sunday's election is a necessary and important point of departure.
Mr Abe's ability to deliver on his promises will depend on his ability to prioritise his policy reforms, his ability to keep his party united behind him, and also, critically, the calibre of the individuals within his own administration.
With a cabinet reshuffle likely in September, the next few months will provide an important test of the prime minister's ability to capitalise on his recent electoral success and substantially deliver on his policy commitments.
John Swenson-Wright is Senior Consulting Fellow of the Asia Programme at Chatham House and Senior Lecturer, Faculty of Asian and Middle Eastern Studies, at the University of Cambridge.