Bangladesh war crimes: Ali Ahsan Mohammad Mujahid to be executed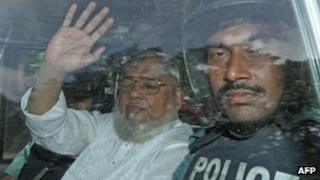 A leading Islamist politician in Bangladesh has been sentenced to death over war crimes committed during the 1971 war of independence with Pakistan.
Ali Ahsan Mohammad Mujahid, a key figure in the Jamaat-e-Islami party, was accused of mass killing and torture and convicted of five of seven charges.
Prosecutors say he led a militia accused of killing leaders and intellectuals supporting independence.
The party's spiritual leader was jailed for 90 years on Monday.
Hundreds killed
Thousands of people took to the streets on Tuesday to protest against Ghulam Azam's sentence, which was handed down by the International Crimes Tribunal in Dhaka.
At least two people were killed when police clashed with demonstrators.
The tribunal was set up in 2010 by the current Awami League-led government to try alleged local collaborators of the Pakistani army during Bangladesh's war of independence.
More than 100 people have been killed since January in violent protests prompted by verdicts handed down by the tribunal.
Jamaat-e-Islami says the trials are politically motivated, and Human Rights Watch describes them as "flawed".
AFP news agency reported that Justice Obaidul Hassan ordered that Mr Mujahid be "hanged by the neck" after the panel of three judges read out the verdict at Wednesday's hearing to the packed courtroom in Dhaka.
Mr Mujahid was a student leader in 1971 and among those who supported a unified Pakistan.
Like many other Jamaat leaders he went into hiding soon after independence, but resurfaced after Gen Ziaur Rahman came to power in a military coup in 1977.
He later became social welfare minister in the Bangladesh Nationalist Party-led government from 2001-2006.
He is highly regarded for his oratory and organisational skills, but critics say he was a leader of the al-Badr group, which was an auxiliary force that helped the Pakistani army identify and kill pro-independence Bengali activists.
There is a range of estimates for the exact number of people killed in the nine-month Bangladeshi war of secession. Government figures suggest as many as three million people died.