Koreas fail to reach deal on Kaesong after fresh talks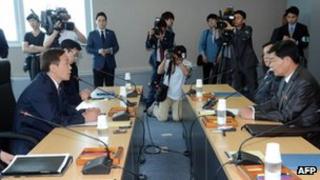 North and South Korea have ended a third round of talks on the re-opening of a jointly-run industrial zone without reaching a deal, officials say.
South Korean officials added that more talks on Kaesong - a rare symbol of inter-Korean co-operation - are scheduled for Wednesday.
Work at Kaesong has been suspended since mid-April, when North Korea withdrew its workers.
The move came amid high tensions after Pyongyang's 12 February nuclear test.
The Kaesong complex, located just inside North Korea, is home to more than 120 South Korean factories which employ some 53,000 North Korean workers.
The Koreas agreed in principle earlier in July to restart operations. They met again on 10 July to settle differences, but the second round of talks ended without a deal being reached.
"Overall conditions were not easy, but if both sides have faith in the constructive normalisation of the joint venture, positive results could be reached," Seoul's chief delegate, Kim Ki-woong, was quoted as saying in his opening remarks.
Meanwhile, his counterpart Park Chol-su said Kaesong could become a hope for the future if talks were successful.
Kaesong is a a key source of revenue for Pyongyang, with South Korean companies paying more than $80m (£53m) a year in wages to North Korean workers.
Last week, a small team of South Koreans crossed into North Korea to check communication and power lines - the first time South Koreans had entered the zone in two months.
The Koreas remain technically at war, as the 1950-53 conflict between both countries ended in an armistice and not a peace treaty.