Burmese leader Thein Sein set for Cameron talks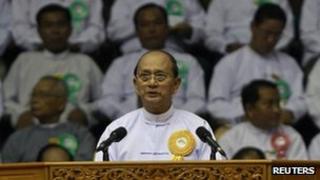 Burmese President Thein Sein is to hold talks with British Prime Minister David Cameron, with trade ties and human rights set to top the agenda.
Thein Sein, who has ushered in a series of reforms since he took power after polls in 2010, will spend two days in the UK.
He wants help to boost Burma's economy and Western nations are keen to invest in the resource-rich nation.
But activists say more work is needed on human rights.
In recent months there have been a number of outbreaks of anti-Muslim violence in Buddhist-majority Burma, also known as Myanmar.
The worst of the violence took place in Rakhine state last year, leaving some 200 people dead and tens of thousands - mostly Rohingya Muslims - displaced.
Burmese authorities have been accused of failing to stop the violence and adequately safeguard the rights of Muslims.
"We want to recognise the remarkable reforms of the last 18 months but also to raise at the highest levels our ongoing concerns, particularly about inter-communal and anti-Muslim violence," a Foreign Office spokesman said.
Thein Sein has introduced major reforms since the elections of November 2010, which saw military rule replaced with a military-backed civilian government.
Many political prisoners have been freed and media restrictions have been relaxed.
Aung San Suu Kyi's National League for Democracy - which boycotted the November 2010 polls - has rejoined the political process and now has a small presence in parliament.
In response, most international sanctions against Burma have been relaxed.
Thein Sein's visit is thought to be the first by a Burmese leader since military ruler Ne Win came to the UK in 1986.