New Zealand court orders Pike River mine blast pay-out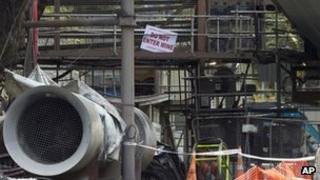 A judge in New Zealand has ordered a coal mining company to pay compensation to relatives of 29 men killed in a 2010 gas explosion.
Pike River Coal was ordered to pay NZ$110,000 ($86,000, £57,000) to each victim's family and to two men who survived the disaster at the South Island colliery, totalling NZ$3.41m.
But the firm is in receivership, so it is not clear this can be paid in full.
The mining disaster was New Zealand's worst in almost a century.
An official investigation last year found that the 19 November blast at the mine, on the west coast of the South Island, was caused by a methane gas explosion.
It found that Pike River Coal failed to spot danger signs as it tried to boost production at the colliery.
In April the company was found guilty of multiple health and safety violations.
''There were many indicators that the mine was in a potential explosive position but the warning signs were not noted or heeded,'' Judge Jane Farish said at the sentencing hearing in Greymouth on Friday.
The company was also fined NZ$760,000. Its former chief executive, Peter Whittall, faces a separate trial.
The bodies of those who died remain inside the mine because conditions are said to be too dangerous to recover them.