North Korea agrees Kaesong talks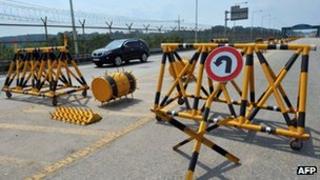 North Korea has agreed to hold talks on the Kaesong industrial complex, hours after the South called for a meeting.
Working-level officials from the two sides will meet on Saturday at the truce village of Panmunjom in the demilitarised zone.
Work at the factory park - a major source of income for the North - was halted in April amid high regional tensions.
Attempts to hold high-level talks last month failed on procedural grounds.
The meeting is set for 10:00 (01:00 GMT) on the North Korea side of Panmunjom, South Korean officials said.
Seoul suggested the working-level talks on Thursday, a day after Pyongyang said South Korean businessmen could visit the closed complex to inspect and maintain equipment.
Late on Thursday, North Korea accepted the offer, the South said.
Prior to operations being suspended, there were around 120 South Korean businesses in the factory park. Some have since threatened to abandon the zone entirely and relocate their equipment.
Pyongyang withdrew its 53,000 workers from the complex in April, apparently angered by tightened UN sanctions in the wake of its nuclear test in February, and annual South Korea-US military drills.
North Korea also prevented South Korean workers from entering the joint commercial zone.
The last South Korean workers left the zone on 3 May.