New Zealand rescuers call off US yacht search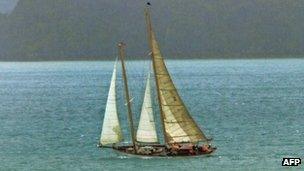 New Zealand rescuers have called off a search for a US yacht that went missing in waters between New Zealand and Australia last month.
The Rescue Co-ordination Centre said it did not find any sign of the wooden yacht or the crew of seven after days of extensive aerial searches.
The 85-year-old Nina set sail from Opua in New Zealand on 29 May.
The contents of a last undelivered text message sent by a crew member on 4 June were released on Thursday.
The message said "sails shredded last night". It also said an update on course information would be provided but none came.
Six Americans aged between 17 and 73 were on board, along with a 35-year-old British man.
Media reports named some of those on board: Captain David Dyche, 58; his wife, Rosemary, 60; and their son David, 17. Also on board was their 73-year-old friend Evi Nemeth, a man aged 28, a woman aged 18 and Briton Matthew Wootton, aged 35, from Lancaster.
The Dyche family were said to be experienced sailors who had been sailing around the world for several years.
The 70ft (21m) yacht last made contact when it was about 370 nautical miles (685 km) west of New Zealand, officials said.