Japan begins upper house election campaign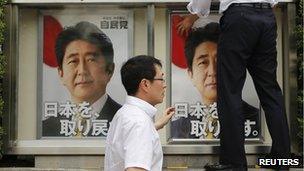 Campaigning has kicked off for Japan's upper house elections, which will take place on 21 July.
The parliamentary vote will be seen as a referendum on Prime Minister Shinzo Abe and his ruling party.
Mr Abe currently enjoys high approval ratings, and his Liberal Democratic Party is expected to do well.
A conclusive LDP win would end years of parliamentary deadlock. Currently, opposition parties are able to block government bills in the upper house.
The poll will select legislators for half of the 242 seats in the upper chamber.
Japan's upper house, while not as powerful as its lower house, is able to block legislation introduced by the government.
No one party has a majority, although the opposition Democratic Party of Japan has the highest number of seats.
Opposition parties have had enough combined seats to control the upper chamber in recent years, leading to what has become known as a "twisted parliament".
"Because of a twisted parliament, rebuilding has not progressed speedily, revitalisation of the economy has not progressed speedily," Mr Abe said on Thursday as he kicked off his party's campaign.
Mr Abe has relatively strong public support for his proposals for economic reform, which have become known as "Abenomics".
However, he wants Japan's nuclear reactors to be restarted - something many in Japan are opposed to.