My day: Tug master Mohamed Farhan BMD Jamaluddin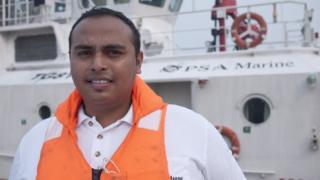 Mohamed Farhan BMD Jamaluddin, 26, works as a tug master for PSA Marine in Singapore. Their youngest tug master, he helps berth container ships at one of the world's busiest ports.
I wake up around 05:00, have a shower and then go straight to work. I live in Woodlands, just across from Johor in Malaysia and it takes around 35 minutes to get to work. Usually I have a sandwich or bread with tuna - just a light breakfast.
When I work the day shift, it goes from 07:30-19:30. I clock in and check which tug I have. I'm in charge of two boats - Star Admiral and Star Commodore. I check my crew, perform routine checks and then report to tug deployment.
As I kid I wanted to be a soldier but I served in the army for two years [doing national service] and that was enough. Before this I was working wharf-side as a contractor, tracking the containers.
But the first time I saw a tug pulling a ship, I was so impressed with it - I couldn't believe how a small boat could move a ship.
I started to admire the job and then looked in the newspapers for openings. So I applied here and they accepted me, to help me be what I am now.
Focus needed
Tug deployment sends the jobs to the console in my wheel house. That tells me which my ship is, its location and what size it is, plus the timing. When it's time to go, I drop my line and go to the pick-up point.
The harbour pilot [a professional providing advice to the master of the vessels for safe navigation in the Singapore port water] is already on board. He calls us and tells us to make fast on either the port or the starboard side.
Then we listen to the pilot. He'll say: "Star Admiral, come alongside" - that means stand by to push/let go the line. Then he'll say: "Star Admiral slow power", or ask for half power, or full power. My rope is for pulling the ship and if we push, we just lean on it - the front of the tug has rubber fenders.
The most important time for the pilot is when the ship starts to berth - some of them start twitching! That's the time we do the most work. We depend on the skill of the pilot but we play a part too and focus on the job. If you don't focus, anything can happen.
Berthing takes around two hours per ship and unberthing is 45 minutes. Usually we use one or two tugs. We used four tugs once, but that was on a tanker. Container ships have a propeller at the front for berthing, but tankers only have the rear one and they are carrying cargo - oil - that is difficult to handle, so you need more.
'There's a challenge!'
For lunch I bring food - I buy it before my shift and eat at the tug. There are three crew including me - the tug master, engineering officer and marine assistant. It's the same crew each day and we get along very well - it's brotherly. We've worked together for about two months, since I became a tug master.
I started here five years ago as a marine assistant - someone who helps the tug master to look out, takes a good look at the rope. I did that for a year to clock sea time and then PSA Marine sponsored me to take a course to be a launch master. That's like a taxi, taking the pilot to the vessel.
After that I was a waterboat master, going to the ships to give them drinking water, then after another year and more studying, I was promoted to tug master. I had to do six months on the job training and then I qualified. The training is hard - it's not easy to handle a tug and keep it stable. But I can do it.
The first ship I helped berth as tug master was the Maersk Sentosa. It's a container ship, 318m long. That's as long as a stadium and I was the only tug. Of course I was nervous because it was my first time going solo. But I applied what my trainers taught me and it went smoothly.
On a busy shift we get up to 10 jobs, but on an average day it is six or seven. The biggest ship so far was the MSC Alexandra. It's a huge ship!
When it arrived I saw how big it was. I thought: 'There's a challenge!' But after we made fast the tug line, our brains started to move.
After I finish my shift usually I will go home, or meet my fiancé and have dinner. We plan to get married at the end of next year. We like to go bowling, watch movies.
I live with my parents and my brothers - I am the eldest of three. When I eat at home, usually my mum cooks - noodles, sometimes rice with different gravies. But when I qualified as a tug master, my family came out for dinner and it was my treat!
Mohamed Farhan BMD Jamaluddin was talking to the BBC's Philippa Fogarty in Singapore.