Quetta mourns after deadly day in Pakistan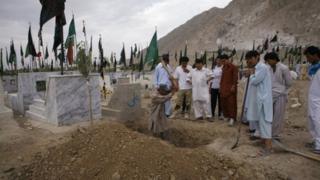 Quetta is mourning a deadly attack on a Shia area of the city, a day after violence in Pakistan left at least 56 people dead.
At least 30 died when a suicide bomber targeted a Shia mosque in Quetta, and 18 were killed in an attack targeting security forces in Peshawar.
Funerals in Quetta took place as businesses and offices shut down in a sign of mourning.
Sunni militant group Lashkar-e-Jhangvi said they carried out that attack.
Quetta has a history of deadly sectarian violence.
Two roadside bombs in the Waziristan tribal region left another eight people dead on Sunday.
One blast left four people dead near the town of Wana in South Waziristan, while the other killed four security personnel travelling from Bannu to the town of Miran Shah.
Quetta markets shut
Security has been tightened around Quetta's Hazara Town area with paramilitary troops and police deployed on roads and streets leading to the district, the Dawn newspaper reports.
Markets in the city also closed as preparations for funerals got under way.
''Why they are killing us? They are killing our younger brothers, girls and women," Abdul Hakeem, the brother of one victim, told the Associated Press news agency.
"Why? What is the reason? Everyone here is very sad, the government is not doing anything, not arresting the culprits."
A senior police official told the newspaper that the condition of some of those injured remained critical. Two died of their injuries overnight, raising the death toll in Quetta to 30.
The suicide bomber, who was trying to get to a Shia mosque in Hazara Town on a bicycle, detonated his explosives after being intercepted at a checkpoint, police said.
Nine women, a young girl and four boys were among those killed.
The attacks on Sunday were the latest in a spate of deadly militant violence across the country. Over the past two weeks they have also targeted women students, foreign mountaineers and a convoy carrying a senior judge.
But the city of Quetta has borne the brunt of sectarian violence this year. Members of the Shia Muslim minority have long been targeted by Sunni Muslim militants but two attacks in January and February left scores dead.
The Sunni militant group Lashkar-e-Jhangvi said they carried out those attacks.
Correspondents say that Pakistan's new Prime Minister Nawaz Sharif is under mounting pressure to explain how intends to stop the latest bout of bloodshed.