Gautam Das murder: Bangladesh jails nine for killing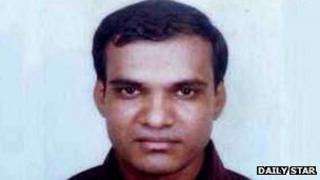 A court in Bangladesh has sentenced nine people to life in prison for the 2005 murder of journalist Gautam Das.
Gautam Das was known for his reporting on crime and corruption is said to have been investigating local officials in Faridpur at the time of his death.
The head of the Bangladesh Federal Union of Journalists said many such cases were not properly investigated.
Bangladesh International Press Institute representative Monjurul Ahsan Bulbul welcomed the convictions.
"There is a culture of impunity for the culprits and in that respect Bangladesh stands in very bad shape," he said.
Also welcoming the convictions, Iqbal Sobhan Chowdhury of the International Press Institute said many journalists had been killed in the south-west of Bangladesh over the past 20 years, and as a result freedom of speech had been seriously compromised.