Burma awards lucrative mobile phone contracts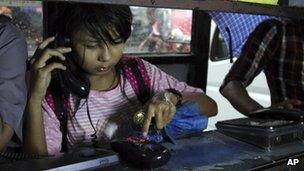 Burma has awarded lucrative mobile telecom licences to Norway's Telenor and the Qatari firm Ooredoo, a government committee in charge of bids has said.
The move opens up one of the world's last untapped mobile phone markets.
It is estimated that just 9% of Burma's 60 million people have mobile phones.
Eleven foreign companies were short-listed in their bid to supply telecommunications infrastructure in the country.
The winners overcame fierce competition from the likes of Singtel and Bharti Airtel, as well as a bid by the Digicel group involving one of Burma's richest men, Serge Pun, and the billionaire financier George Soros.
The successful firms will have to provide voice services across 75% of the country within five years and data services across half of it.
At the moment, few people in Burma, also known as Myanmar, can afford mobile phone handsets and call charges.
"We are looking forward to working with the government and people of Myanmar in developing the country's telecommunication industry, a sector that will play a key role in Myanmar's socioeconomic development," said Sigve Brekke, head of Telenor Asia.
Neither Telenor nor Ooredoo released figures on the value of their bids or how much money they will plough into establishing a mobile network across the country.
However, one bidder said it would cost more than £2bn to build an extensive mobile network in Burma, while Digicel said it was prepared to invest £6bn if it won.
The government said it would finalise the 15-year licences by September and operators would need to launch services within nine months.
The process of opening up the mobile telecom sector is conditional on a telecommunications law that has yet to pass through Burma's parliament.
France's Telecom-Orange and Marubeni Corporation of Japan will be back-up options if either of the two successful firms fail to meet the selection criteria, the selection committee said.
Analysts said the licence-granting process was an indication of the progress of Burma's economic reform programme.
The country lags behind its neighbours in mobile coverage and wants to provide affordable services to help spur economic development.
Related Internet Links
The BBC is not responsible for the content of external sites.