S Korea President Park in China for North Korea talks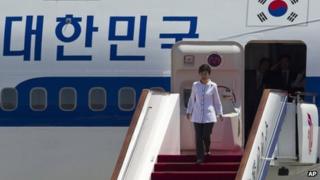 South Korean President Park Geun-hye has arrived in Beijing for a four-day visit expected to focus on North Korea.
Ms Park, who meets President Xi Jinping later in the day, is seeking China's support on efforts to get Pyongyang to rejoin nuclear disarmament talks.
North Korea conducted its third nuclear test in February and subsequently threatened attacks on regional targets.
China is seen as the nation most capable of bringing meaningful pressure to bear on Pyongyang.
It is the communist state's biggest trading partner and the nation to which it despatched an envoy as tensions on the Korean peninsula began to lessen - following weeks of threatening rhetoric - in May.
"I will try to make co-operation between the two countries more substantial and harden Korea-China co-operation for the sake of attaining the goal of North Korea's denuclearisation," South Korean media quoted Ms Park as saying ahead of her visit.
Six-nation talks aimed at ending North Korea's nuclear programme have been stalled since 2009.
"We hope all sides involved can continue to work toward returning to the six-party talks and make concrete efforts to resolve the relevant issues," Chinese Foreign Ministry spokeswoman Hua Chunying said on Wednesday.