Pakistan bomb kills eight and injures Karachi judge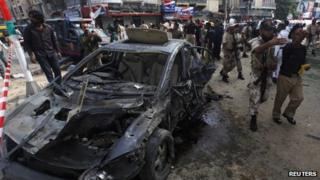 A remote-controlled bomb in the southern Pakistani city of Karachi has killed eight people and injured a senior judge, police say.
Justice Maqbool Baqir was on his way to the Sindh High Court on Wednesday morning when his security convoy was attacked. Several people were wounded.
The Pakistani Taliban said they carried out the attack during rush hour.
Karachi is Pakistan's biggest city and has in recent years been hit by ethnic, sectarian and political violence.
Last week, gunmen shot dead a provincial MP and his son after Friday prayers.
Police say that the wounded judge is now in hospital with critical injuries. His driver and guards were killed.
The bomb was attached to a motorcycle and was so powerful that it damaged nearby shops, police told the Associated Press news agency.
Correspondents say Judge Baqir has a reputation for honesty. He has recently served in special anti-terrorism courts set up to deliver speedy punishments and received numerous death threats.
Reports say many of the threats came from the extremist Sunni Muslim Lashkar-e-Jhangvi militant group, which has been angered over his handling of sectarian crimes.
The group has close ties with the Pakistani Taliban and al-Qaeda. It has previously admitted killing Shia Muslim lawyers in Karachi.