Australia-Japan whaling case in international court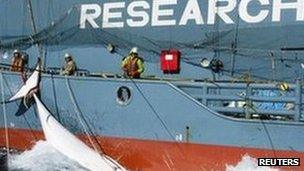 Public hearings are under way in The Hague as Australia and Japan take their fight over whaling to the International Court of Justice (ICJ).
Australia will argue that Tokyo's scientific research programme - under which it kills whales - is commercial whaling in disguise.
Japan - which aims to catch up to 1,000 whales each year - says it is ready to defend its right to conduct research.
There has been a ban on commercial whaling since 1986.
Australia initiated the legal action at the top UN court in 2010.
The first round of oral arguments began on Wednesday, with Australia taking the floor for three days to set out its case that Japan's position that its whaling activities are for scientific purposes "is not only untenable, it is dangerous" for whale populations.
Japan will make its counter arguments over three days from next Tuesday. A further round of arguments, including an intervention from New Zealand, will then take place with the case wrapping up on 16 July - though a ruling is then not expected for several months.
Japan's whaling fleet leaves for the Southern Ocean in November or December each year, with a quota of of minke whales and fin whales whales to catch for what it says are scientific research purposes. Meat from the whales is sold commercially.
In recent years, catches have fallen substantially, mainly because of disruption techniques employed by anti-whaling activists.
Canberra alleges that the research programme breaches international laws and has no relevance to marine conservation. It says more than 10,000 whales have been killed under the programme.
"Australia's views on whaling are well established. We strongly oppose all commercial whaling, including so-called 'scientific' whale hunting by Japan," said Attorney-General Mark Dreyfus, who is representing Australia in court.
"We want to see the practice halted once and for all."
Tokyo says there are cultural reasons behind the annual hunt and that its whaling is sustainable. It also argues that its research provides information on whale stocks with a view to re-examining the ban on commercial whaling in the future.
"We have a scientific research programme in accordance with the convention on whaling and we are strictly abiding by the treaty obligations," government spokesman Noriyuki Shikata told the BBC.
New Zealand is supporting Australia at the ICJ and the court's decision is considered legally binding.
Related Internet Links
The BBC is not responsible for the content of external sites.