China's Xinhua news agency condemns US 'cyber-attacks'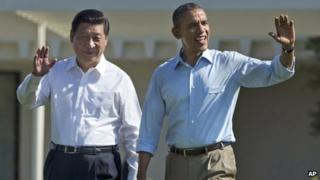 China's official Xinhua news agency has condemned the US over continuing revelations about Washington's surveillance activities by intelligence fugitive Edward Snowden.
In a commentary, it said the US had turned out to be the "biggest villain in our age".
Washington has often accused China of being behind US cyber-attacks.
But Mr Snowden has disclosed extensive gathering of phone and internet data by US agencies.
His latest revelations, published in the South China Morning Post, suggest a Beijing University was targeted.
He alleged that as recently as January this year the NSA hacked into computers and servers at the prestigious Tsinghua University in Beijing.
Mr Snowden is reported as telling the paper that on one single day in January, at least 63 computers and servers at the university were affected.
Xinhua says the latest allegations in the South China Morning Post, along with previous disclosures, are "clearly troubling signs".
"They demonstrate that the United States, which has long been trying to play innocent as a victim of cyber-attacks, has turned out to be the biggest villain in our age," says Xinhua.
And Xinhua says Washington should be honest about what it has been doing.
"It owes too an explanation to China and other countries it has allegedly spied on. It has to share with the world the range, extent and intent of its clandestine hacking programs."
Xinhua says the Snowden developments provide support for China's position on cybersecurity.
"Both the United States and China, together with many other countries, are victims of hacking. For the uncharted waters of the Internet age, these countries should sit down and talk through their suspicions," says Xinhua.
"With good intentions, they can even work for the establishment of certain rules that help define and regulate Internet activities and mechanisms that can work out their differences when frictions do arise."
Summit
Cybersecurity featured prominently at a summit in California two weeks ago between Present Barack Obama and Chinese leader Xi Jinping.
The US warned China that the issue of Chinese "cyber-intrusion" and theft of intellectual property could strain relations, while China said it did not want the issue to become a source of friction.
Washington has expressed concern at what it says are cyber-attacks from China targeting US companies as well as government departments, including the Pentagon.
But officials from both sides have been quoted as admitting privately that nations will always attempt to steal military and political secrets from each other.
Mr Snowden first leaked details of his work as an NSA analyst and the extensive US surveillance programme to Britain's Guardian newspaper and the Washington Post before fleeing to Hong Kong last month.