Manas: Kyrgyzstan backs closure of US airbase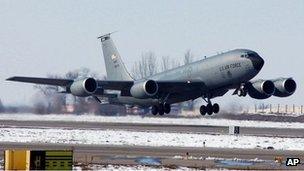 Kyrgyzstan's parliament has voted to end the US lease on its military air base at Manas in July 2014.
The bill was approved by 91 votes to five, and will become law once signed by President Almazbek Atambayev.
The US pays $60m (£39m) each year to lease the base, a logistics hub for Afghanistan.
Many troops are expected to pass through Manas as the US pulls out more than 30,000 of its forces from Afghanistan by early next year.
President Atambayev has repeatedly pledged to close the US lease on the base, which has been in operation since 2001.
In February 2009, former Kyrgyz President Kurmanbek Bakiyev said the US base would be closed, but the decision was reversed after the price of the annual lease was raised from $17m to $60m.
Russia also has an air base in Kyrgyzstan, for which it agreed a 15-year extension last year.