Ten Bangladesh militants are condemned to death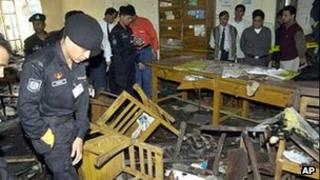 A court in Bangladesh has sentenced 10 Islamist militants to death for assisting a suicide bombing in 2005 which killed eight people near a courthouse in the town of Gazipur.
Police at the time described it as the country's first suicide bombing.
The condemned men, all members of the banned JMB militant group, showed no remorse after a judge sentenced them in a crowded Dhaka courtroom.
The JMB man who carried out the attack was also killed.
Prosecutors say that he was dressed in a traditional lawyers' gown which enabled him to enter a lawyers' office office in Gazipur - just north of Dhaka - without creating suspicion. He then detonated his explosives.
Special public prosecutor Rafiqul Islam told the AFP news agency that the condemned men assisted the bomber in making the bomb, providing him with information and planning.
Judge Motaher Hossain, sitting in a fast-track court set up by the government, ordered the sentences to be carried out by hanging.
The attack was one of several of blasts carried out by the Jamaat-ul-Mujahideen (JMB) in 2005, prompting concern that the moderate Muslim-majority nation was being subjected to an insurgency similar to that being waged by the Taliban in Afghanistan and Pakistan.
On 17 August 2005 - three months before the Gazipur attack - more than 300 explosions took place simultaneously in 50 cities and towns across the country in one day, including the capital Dhaka.
JMB head Abdur Rahman and his deputy Siddiqul Islam, known as Bangla Bhai, were among six JMB militants hanged in 2007 for orchestrating the attacks.
During their trial, the two men said they had targeted the judiciary because it was run by secular rather than Sharia law.