North Korea 'willing to restart' nuclear talks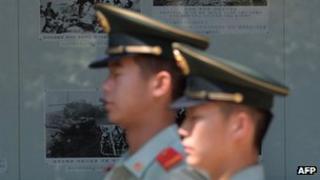 North Korea has expressed willingness to restart long-stalled nuclear talks with international partners, China's foreign ministry has said.
According to its website, North Korean officials said they wanted to "peacefully resolve the nuclear issue".
The remarks follow a meeting between North Korea's vice foreign minister and his Chinese counterpart.
Six-party talks on the country's controversial nuclear programme broke down in 2008.
The talks between North Korea and China, South Korea, Japan, Russia and the United States were aimed at at persuading Pyongyang to abandon its nuclear weapons programme in return for aid and security guarantees.
Responding to the latest information from the Chinese, North Korea's closest ally on the global stage, UN Secretary-General Ban Ki Moon said: "I really appreciate the constructive role China has been playing in reducing tension on the Korean peninsula.
"It is important that, first of all, tension be reduced so that both parties of Korea can engage in dialogue."
On Sunday Pyongyang offered to hold high-level talks on "regional peace" with the US, although it has reneged on deals several times in the past.
In response, Washington said North Korea would be judged by "actions not words".
Pyongyang detonated a nuclear device in February and tested a long-range ballistic missile last December. It also recently offered and then scrapped high-level talks with its neighbour South Korea.
Officials from the US, Japan and South Korea are meeting in Washington on Wednesday to discuss six-party talks on North Korean nuclear disarmament.