Kerry calls Karzai to defuse tension over Taliban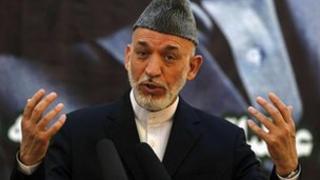 US Secretary of State John Kerry has spoken by phone to Afghan President Hamid Karzai to try to defuse tensions.
The US and Kabul had disagreed over a new Taliban office in Qatar - after the US announced it was to start direct negotiations with the militants.
Mr Karzai's spokesman has told the BBC the Afghan leader now "wants to get wheels moving again".
It is not clear if security talks with the US, which he had suspended in protest over the office, will resume.
Mr Karzai said the opening of the building contradicted earlier US security guarantees to his government.
'Contradictory'
The Taliban premises in Qatar opened on Tuesday, on the same day that Nato handed over security for the whole of Afghanistan to the Afghan government for the first time since the Taliban were ousted in 2001.
Mr Karzai said in a statement on Wednesday that the office was "totally contradictory to the guarantees that were made by the USA to Afghanistan".
His officials said he objected to a Taliban flag flying from the building, and also the name given to the building - the Islamic Emirate of Afghanistan.
He said Afghan negotiators would stay away from the Qatar talks until "foreign powers" allowed the process to be run by Afghans - and also stay away from the latest round of security talks with the US on the American presence in Afghanistan after Nato leaves in 2014.
But Mr Karzai's spokesman now says Mr Kerry has informed the Afghans that the Taliban office is removing the flag, and that the sign designating the building as the Islamic Emirate of Afghanistan will be replaced by one saying Bureau of Peace Talks.
The official added that President Karzai told Mr Kerry that once he saw Afghan and international networks showing evidence that these changes had been made, he would "be ready to keep the wheels rolling" on the process.
A meeting will be held in Kabul on Thursday to discuss the next steps.
US-Taliban talks
The first formal meeting between US and Taliban representatives is expected to take place soon in Doha.
The US met the Taliban secretly in 2011 in Qatar, but these would be the first open talks between them.
The White House has demanded - and the Taliban accepted - two preconditions for the talks: that the Taliban make a statement supporting a peace process, and that it oppose the use of Afghan soil to threaten other countries.
The BBC's Jonathan Beale, in Kabul, says the Afghan government clearly thinks that US preconditions for talks with the Taliban should have included a commitment to talk to the Afghan government and to acknowledge the country's constitution.
However, in an interview with the BBC Pashto service, a Taliban spokesman in the Qatar office, Mohammad Naim, said the constitution "was made during the occupation" and that "most Afghans do not accept this constitution".