Mourning in Pakistan for murdered polio workers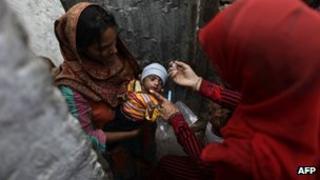 Relatives are mourning two polio workers shot dead by suspected militants on Sunday in Pakistan's north-western Swabi district.
Gunmen killed the two male health workers as they were providing vaccinations in Swabi's Kandar village.
No group said it carried out the attack, but militants have accused polio workers of spying for the US.
At least 17 polio workers and four security officials have died in attacks on polio health teams in recent months.
"He was on duty for polio vaccination. When he was ready for his duties he told me he was on his way, as he had received an official letter from the district education officer," Sobydar sar Badhar Khan, the father of one of those killed, told the Associated Press news agency.
This is not the first time that health or social workers have been targeted in Swabi. On 1 January seven charity workers, six of them women, were shot dead in the Swabi area.
It is not clear if they were targeted because their charity offered vaccinations or education for girls.
There has been opposition to immunisation drives in parts of Pakistan, particularly after a fake CIA hepatitis vaccination campaign helped to locate Osama Bin Laden in 2011.
But Pakistan, Nigeria and Afghanistan are the only three countries in the world where polio is still endemic.
There were 35 cases of polio in Pakistan in 2012, according to the Polio Eradication Initiative.
The UN said in March that some 240,000 children have missed vaccinations since July in parts of Pakistan's tribal region, the main sanctuary for Islamic militants, because of security concerns.