Vietnam arrests prominent blogger for 'abusing freedoms'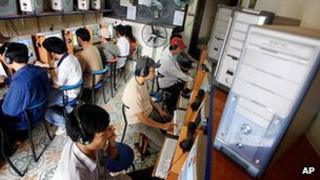 Police in Vietnam have arrested a prominent blogger for anti-state activities, reports say.
Pham Viet Dao, 61, was arrested in Hanoi on Thursday for "abusing democratic freedoms", the Ministry of Public Security said.
Mr Dao ran a blog critical of government leaders and policies, and discussed sensitive issues like the territorial row with China.
His arrest comes after another blogger was detained in May on similar charges.
The charge against Mr Dao, a former government official, carries a prison sentence of up to seven years.
His blog was unavailable on Friday, according to reports.
In a previous speech he gave that was posted online by another blogger, Mr Dao said social media in Vietnam made up for "handicapped official media".
"Fortunately, with the boom of [the] internet, many individuals and bloggers have become journalists," he was quoted as saying.
Correspondents say that at least 38 activists, including bloggers, have been arrested for anti-state activities in Vietnam this year.
Media in Vietnam is state-owned and operates under strict regulations. All newspapers and television channels are state-run.
But the government has increasingly come under pressure from a number of bloggers over human rights issues and governance issues.
The arrest of Mr Dao came days after Prime Minister Minister Nguyen Tan Dung secured the full support of less than half of parliament in an unprecedented confidence vote on Tuesday.
The government has faced public criticism over a series of corruption scandals and its handling of the stagnant economy.