South Korea in sincerity call after high-level talks founder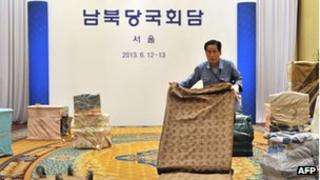 South Korea voiced disappointment with Pyongyang after high-level bilateral talks were placed on hold and phone calls to a hotline went unanswered.
South Korean Prime Minister Chung Hong-won said Seoul would no longer make "infinite concessions" to North Korea.
The two sides suspended talks planned for Wednesday due to disagreement over the composition of the delegations.
The talks had been seen as a sign of improving North-South relations, following months of raised tensions.
"In the past, we have made infinite concessions to the North, but the time has come to hold talks where both sides are represented by officials of the same level," Mr Chung said.
He added that South Korea's "national pride" should also be considered.
South Korean Unification Minister Ryoo Kihl-jae described the setback as "one of the pains we have to go through for a new relationship between South and North Korea".
The North should "show sincerity" if it wanted relations to improve, he said.
The talks were expected to focus primarily on resuming operations at a joint industrial park.
However, disagreement over which delegates would attend led to the talks being cancelled.
'Provocation'
It was originally reported that Mr Ryoo would lead South Korea's team, but when Seoul asked Pyongyang to send his counterpart, Kim Yang-gon, North Korea refused.
Seoul then nominated Vice-Unification Minister Kim Nam-shik to lead its team instead, but the North described this as a "provocation" that made a "mockery" of the talks, and said it would not send anyone, South Korea said.
The two Koreas have not held ministerial-level talks since 2007.
Meanwhile, North Korea has not answered two routine calls from South Korea via the Red Cross communications line linking the two countries, South Korea says.
The Unification Ministry said it called the hotline at 0900 (0000 GMT) and 1600 local time, but calls were not picked up by the North.
The Red Cross liaison channel was severed by Pyongyang earlier this year, amid regional tensions.
Prior to being cut in March, the two Koreas had spoken twice a day at 0900 and 1600 using the hotline, South Korea's Yonhap news agency said.
An unnamed ministry source told Yonhap that the unanswered call was "probably linked to the cancellation of talks late Tuesday".
The agreement to hold the talks - seen by analysts as a major development in itself - came in the early hours of Monday after lengthy preliminary discussions in the truce village of Panmunjom.
Tensions in the region were heightened earlier this year following North Korea's third nuclear test in February.