My day: School teacher Reneliza Llavore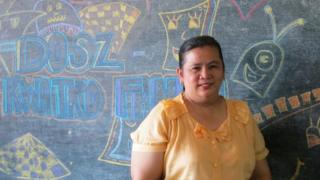 Reneliza Llavore, 47, is a teacher at a public high school in Bacolod, a city of about half a million residents in the central Philippines.
I wake up 04:00 and read the Bible for 30 minutes, then prepare my food. I usually have a heavy breakfast - rice and whatever is available, grilled or fried fish, sometimes pork - and coffee.
Since I was in primary school, I have never been late. I usually arrive at school an hour before my 07:30 class. The first thing I do is listen to the radio, to some music and news, then I go to my classroom.
One class is usually between 45 and 50 students. I teach them maths - I used to teach physics too but not anymore.
Mathematics is 10% theory and 90% practice. That's why I prepare worksheets for the students to do every day.
Most students hate maths. If they cannot pass the exams, I try to design different activities and if their answers are wrong, I let them make collages to help them understand the lesson.
I make them relate maths to their daily lives, so it has practical applications for them. Sometimes I tell them, just practice on your way to school - count the number of leaves, the number of dogs, then add them.
Student dropouts
I teach for five hours a day, but this year it might go up to seven. I also coach the table tennis team and am in charge of the second years.
There are 20 classes of second years with a total of between 800 and 1,000 students, and 32 teachers.
Not all students show up during enrolment in May. Some of them only come when classes start in June, because they need to finish their part-time or summer jobs for financial reasons. Some attend classes until September only and drop out of school.
In the Philippines, public schools are free. They have improved under a current government programme - now there are financial subsidies given to students for their expenses if they meet certain criteria.
My students, usually between the ages of 14 to 15, come from different backgrounds, but most of them are poor.
Some of them grew up in slum areas and come from broken families. If their parents have jobs, they work as pedicab [bicycle taxi] drivers or as porters at the nearby wharf.
Some students have to fend for themselves - their parents abandoned them and they have to work to go to school.
There are students who come without eating their breakfast. There are students who come without sleep. It's because they work at night, usually selling fish.
Our lunch break is at noon and I usually eat in the teachers' room. Sometimes I bring a packed lunch, sometimes I buy food, but it's usually rice, vegetables and fish.
Teaching values
My first job was as an investment consultant at a commodities firm. I decided to change jobs because of my conviction that all things are transitory. I wanted to invest in eternal things, like teaching students values.
I worked as a music co-ordinator in a church for eight years, but then decided to quit because people in church already have values. So I became a teacher - I have been at this school for 10 years. I think I have taught almost 3,000 students since I started.
Sometimes I have to motivate students to stay in school or help the ones who cannot afford to stay. I sometimes lose patience with students but I don't get mad. I just laugh it off or leave the room.
Only about 30% of my students will end up in professional careers. Most of them will end up getting married or pregnant. But I really want them to finish high school.
I make sure they know that if they have problems connected with schooling, financially or otherwise, they can come to me for help.
My family live in Bacolod too. I am the fourth child of seven. My father used to work in a lumber company but it closed. We struggled, but we found different ways to continue our schooling. I got a scholarship when I was in high school and then did a degree.
I finish teaching at 15:00 and then do paperwork. Sometimes, students come to consult me - they tell me how hard maths is. Once I leave, I drop by the mall to unwind and have a snack before going to church.
I like it when students approach me in public - it makes me feel like I'm part of their growth. Seeing my students become better people motivates me.
The student who I remember most was one who graduated high school at the age of 26. He worked hard and did whatever he was asked to do. He had to earn a living in order to finish school, so he sold fish and did carpentry work to earn money for transport and other expenses. Now he works as a security guard.
Once I get home, I watch TV. I go to sleep at about 22:00. As for my future plans, I have no plans to quit teaching until I retire.
Reneliza Llavore was talking to the BBC's Amee Enriquez in Bacolod, Philippines.