Vietnam MPs vote low confidence in PM Nguyen Tan Dung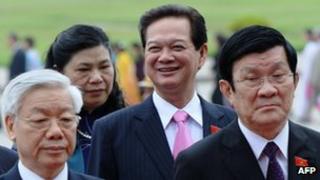 Vietnamese Prime Minister Nguyen Tan Dung has won the full support of less than half of parliament in an unprecedented confidence vote.
Mr Dung received votes of "high confidence" from only 210 members of the 498-seat national assembly.
He got 122 votes of "confidence" and 160 votes of "low confidence" in the three-ratings ballot. Remaining lawmakers did not cast ballots.
Correspondents say that the vote is a rare public blow for the PM.
Key issue
MP Duong Trung Quoc told the BBC that the results were "credible... and served as a warning to our leaders that their performances are being watched".
The BBC's Nga Pham in Bangkok says that the national assembly chose to hold a confidence vote rather than a non-confidence vote.
This meant that delegates could only express their confidence in various degrees for the 47 Communist party representatives on the voting list.
Our correspondent says that while the results were predictable - all secured more than 50% of the votes - those who proved least popular were directly involved in managing the economy, a key issue for MPs and the country at large.
State Bank Governor Nguyen Van Binh, for example, received the largest numbers of low confidence votes - 209 - and got the full approval of just 88 assembly members.
The confidence vote follows calls made last year for greater accountability amid mounting public anger over corruption and the state of the economy.
Correspondents say the lukewarm support for the prime minister is all the more unusual because traditionally the Communist party rallies behind its leaders when they are under pressure.
According to parliamentary law, any member of parliament receiving low confidence votes from two-thirds of the assembly must resign or face a second vote on their leadership.
Mr Dung in February approved a series of measures aimed at reforming poorly performing state-owned enterprises and tackling banks' high levels of toxic loans - factors blamed for reducing consumer spending, alarming foreign investors and causing thousands of businesses to close.
Lawmakers on Tuesday awarded President Truong Tan Sang with the most "high confidence" votes - 330 - with just 28 votes of "low confidence", an outcome which correspondents say is likely to increase speculation of a split within the Communist party between factions aligned with him and factions who support the prime minister.