South Korea charges ex-spy chief for 'meddling' in vote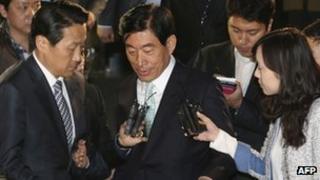 South Korea will indict the former head of the country's spy agency for attempting to influence last year's presidential election, prosecutors say.
Won Sei-hoon is accused of ordering online postings favouring Park Geun-hye in the run up to December's vote.
Ms Park defeated her rival Moon Jae-in in the tightly-fought polls, becoming South Korea's first female president.
Mr Won was responsible for South Korea's National Intelligence Service (NIS) until early 2013.
He had previously served as a minister under Ms Park's predecessor Lee Myung-bak.
South Korea's main opposition party says the NIS posted comments online in an attempt to influence debate in favour of Ms Park.
It also alleges that the government put pressure on prosecutors investigating the case.
It is not clear whether the alleged campaign influenced the outcome of the vote and there is no evidence that Ms Park knew of its existence.
Prosecutors say Mr Won "systemically and extensively intervened in domestic politics", violating election laws, South Korea's Yonhap news agency reported.
He will be ordered to stand trial and cannot leave the country, although he will not be physically detained, the agency said.
When previously questioned by prosecutors, Mr Won reportedly denied the charges against him.
Kim Yong-pan, the former head of Seoul's police, will also be indicted, prosecutors say. He is suspected of obstructing a police investigation into the matter.
In April, police announced that at least two NIS agents appeared to have posted political comments on the internet, although they could not determine whether the agents were part of a larger operation.
However, prosecutors now say they have proof that the NIS posted comments online using more than 100 identities.