Australian PM Gillard dismisses leadership rumours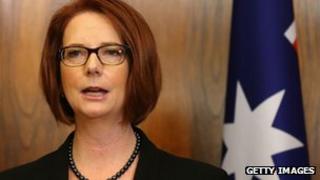 Embattled Australian Prime Minister Julia Gillard has described renewed speculation about her leadership prospects as "wasted breath".
Ms Gillard's statement followed media reports at the weekend that she had lost the support of a key power-broker to her predecessor, Kevin Rudd.
Polls last week suggested multiple Labor MPs would lose their seats under Ms Gillard in the upcoming election.
The poll takes place on 14 September, with Labor widely expected to lose.
"I am the best person to lead the Labor Party," Ms Gillard told reporters on Tuesday. "I will certainly be leading Labor at the next election."
"Yes there's rumour-mongering and speculation - it's wasted breath."
Over the weekend, Australian media reports suggested that Cabinet Minister Bill Shorten no longer backed Ms Gillard, something denied by Mr Shorten.
A poll published on Sunday suggested that three cabinet ministers would lose their seats under Ms Gillard, but would retain their seats if Mr Rudd was leading the party.
Trade Minister Craig Emerson, one of the ministers named in the poll, said that the rumours about Labor's leadership "[didn't] translate into anything".
"We should not be going through revolving doors, going forward and back and forward and back," he told ABC radio.
Ms Gillard became Australia's first female prime minister when she toppled Kevin Rudd in a leadership challenge in June 2010.
Mr Rudd, who remains popular with voters, said earlier this year - as his colleagues called for a leadership ballot - that he would not challenge Ms Gillard.
Opposition leader Tony Abbott, who is expected to win the coming election, said on Tuesday that Australians had had enough of Labor's in-fighting.
''Enough is enough," he said. "I think Australian people are sick of the soap opera."