Karachi murder: Shahzeb Khan's killer gets death sentence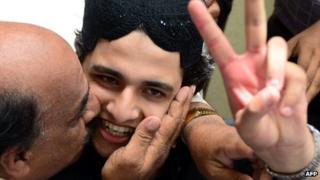 A young man from an influential family has been sentenced to death over a high-profile murder case in the Pakistani city of Karachi.
Shahrukh Jatoi was found guilty, along with Nawab Siraj Talpur, of shooting dead Shahzeb Khan in an affluent seaside neighbourhood in December.
Police were accused of being slow to investigate the murder amid claims of pressure from the defendants' families.
This led to a major publicity campaign by social media activists.
They held protests and used Twitter and Facebook to spread word about the case. Protests were also organised by Imran Khan's PTI party.
As the campaign grew in momentum, the Supreme Court ordered police to arrest the suspected killers in addition to seizing their property and freezing their bank accounts.
'Missed son'
The pair are alleged to have chased and shot Shahzeb Khan, the 20-year-old son of a police officer in Karachi, after he had a row with Talpur's servant.
The family of the main suspect, Shahrukh Jatoi, was accused of using its influence to stop the police from bringing charges.
By the time the police had begun to investigate, Jatoi had slipped out of the country to Dubai on false documents, the BBC's Shahzeb Jillani reports from Karachi.
He was only brought back to Pakistan for trial after the Supreme Court intervened in the case, he adds.
Jatoi's family was then accused of manipulating the system to try to get him declared a minor, but an official medical report later proved the defendant had falsely claimed to be under 18.
Following the verdict on Friday, an apparently remorseless Jatoi was seen making a victory sign and smiling as he was taken by police to a prison van.
Two other defendants were sentenced to life in prison.
Defence lawyer Hummol Zubedi confirmed the court's verdict and said that the defendants would appeal against it.
Correspondents say that while Pakistan has many people on death row, sentences are rarely carried out.
Mr Khan's mother, Ambreen Aurangzeb, said she was satisfied with the court ruling, in a tearful interview broadcast on Pakistani TV channels.
"I miss my son day and night, and this court order cannot bring him back," she said.