Pakistan cabinet led by PM Nawaz Sharif sworn in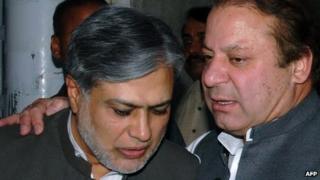 Twenty-five members of the cabinet of new Pakistani Prime Minster Nawaz Sharif have been sworn in by President Asif Ali Zardari.
The ministers were sworn in at the presidential palace.
PM Nawaz Sharif has not yet said who will be appointed to run each ministry. A formal announcement is expected soon.
However, local media quoting sources from within his PML-N party have already published the names of those given key appointments.
Mr Sharif was sworn in for an unprecedented third term on Wednesday after the resounding May election victory of the PML-N.
He faces numerous challenges, including bringing an end to US drone strikes and Taliban attacks while also tackling a crippled economy.
Economic stability
Local media has reported that among the key appointments are:
Chaudhry Nisar as interior minister
Ishaq Dar as the finance minister
Tariq Fatemi as an adviser on foreign affairs
Pervez Rashid as information minister
Khawaja Asif as the water and power minister
Khaqan Abbasi as the minister for petroleum and natural resources
Correspondents say that Mr Asif's appointment is especially important, because the new PM has pledged to make the provision of better power supplies one of his top priorities alongside improving the economy.
The cabinet also includes two women.
Speculation is rife that the new government may need a bailout from the International Monetary Fund (IMF) to restore economic stability.
The BBC's M Ilyas Khan in Islamabad says that Mr Sharif's desire to rejuvenate the economy and improve security are both areas that require some speedy but difficult decision-making in a geo-strategic environment which is shaped and controlled by the military.
While the new prime minister favours talks with the Pakistani Taliban, many expect that now he is in power he will accept the army's view that all past negotiations have failed and the only option is to fight the jihadis who attack domestic targets.
The new government comes to power at a critical time in the battle against the Taliban - as Nato forces begin the process of withdrawing from Afghanistan.
With the support of some independent MPs, the PML-N has an outright majority and has not needed to form a coalition.
PML-N sources are reported in the Pakistan media as saying that the new prime minister wants to keep his cabinet no bigger than 25 ministers but at the same time has been under pressure to have representatives from all the country's provinces within it.
Correspondents say that Mr Sharif's task is all the more complicated because most PML-N members come from Punjab, the country's most populous province.