Taiwan charges two for planting bombs on train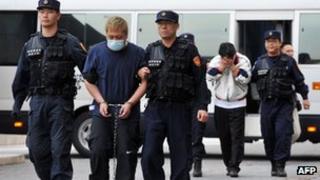 Taiwan prosecutors have charged two men with planting bombs in a high-speed train and a lawmaker's office in April.
Hu Tsung-hsien and Chu Ya-dong are accused of planting the four suitcases, which contained explosives. All four devices failed to detonate.
They reportedly fled to China after the incident, but were repatriated to Taiwan a few days later.
Prosecutors say Mr Hu made the devices "out of frustration over society" and Mr Chu helped place them.
Both are charged with attempted murder and endangering public safety.
Prosecutors described the men's actions as "dangerous and malicious".
"We ask [for] the most severe punishment for the accused as they have shown no remorse," prosecutors said in a statement.
Mr Hu had placed orders on the stock market in an attempt to profit from the explosions, prosecutors added.
Hu Tsung-hsien's lawyer said that Mr Hu denied the charges, while Mr Chu acknowledged placing the luggage but said he did not know the contents, AP news agency reported.
Hundreds of passengers were evacuated when two suitcases containing explosive devices were found on a train on 12 April.
Two more suitcases were discovered at Taiwan politician Lu Chia-chen's office a few hours later.