Six Georgians killed in Afghanistan suicide attack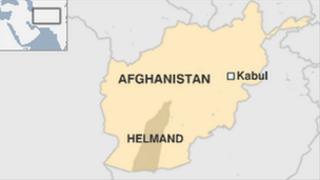 Six Georgian troops have been killed by a suicide attack in the Helmand province of Afghanistan, the Georgian defence ministry says.
"A suicide bomber exploded a lorry close to our base," defence ministry spokesman Irakli Dzneladze said on Georgian television.
Last month three Georgian soldiers were killed in a similar attack.
Although not a Nato member, Georgia has taken part in several missions and has more than 1,500 soldiers in Helmand.
Tbilisi has the biggest non-Nato contingent of troops in Afghanistan.
In all, 28 Georgian troops have now been killed in Afghanistan since 2009.
Mr Dzneladze said that nine others had been wounded, but none of their injuries were life-threatening.
"Despite these attacks, the Georgian military... are in full readiness to complete the tasks they have been charged with," he added.
President Mikheil Saakashvili also appeared on television, saying that Georgia had "made another sacrifice for our freedom and independence".
The former Soviet republic has also sent forces to Kosovo and Iraq.