Three Rohingya women killed in Burma shooting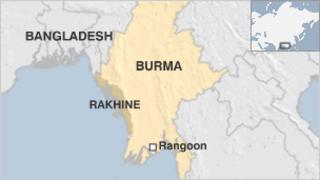 At least three women from the Rohingya minority were killed when police fired on protesters in Burma's Rakhine state.
The women - one of whom was pregnant - were protesting because the authorities were planning to move them to another temporary camp, local people said.
Last year Rakhine saw clashes between Buddhist and Muslim communities that left almost 200 people dead.
Tens of thousands of Rohingya Muslims remain displaced in the wake of the violence, many living in camps.
A community near the town of Mrauk U protested against the arrival of police in their village, local sources told the BBC.
The police had brought in workers and construction materials, with plans to move the community to a new camp, the sources added.
The reason for the police shooting remains unclear.
Aid agencies have been trying to get Burmese authorities to find better locations for the tens of thousands of displaced people, as the start of the monsoon rains is making their temporary camps uninhabitable, says the BBC's Jonathan Head in Bangkok.
This is proving difficult given the intense hostility from the local Buddhist population, our correspondent adds.
Burma does not recognise Rohingya Muslims as its citizens and human rights groups have accused Burmese authorities of being complicit in their persecution.
Sporadic outbreaks of anti-Muslim violence have continued in the wake of the Rakhine unrest last year.
The most recent was late last month in the northern town of Lashio, where at least one person was killed.
In March, at least 43 people - mostly Muslims - died in violence that erupted after an argument at a Muslim-owned shop in the central town of Meiktila.