Can Nawaz Sharif mend Pakistan's ties with India?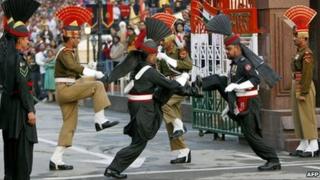 As Nawaz Sharif prepares for an unprecedented third term as Pakistan's prime minister, neighbouring India is watching closely. Sanjoy Majumder asks if the move could usher in a fresh chapter in relations between the two South Asian rivals.
Bustling and congested, Lajpat Nagar is a south Delhi neighbourhood set up for Hindu and Sikh refugees fleeing from Pakistan following the partition of the subcontinent in 1947.
Predominantly Punjabi, it is a reminder that there are many cultural and social similarities between the two countries - but also bitter differences.
This is where Inderdeep Chawla has his clothing shop - the Cotton Lawn.
It is like any other in this vibrant market but has one unique difference. It only sells Pakistani fabrics and designs.
"We are the only importer of Pakistani textiles in all of India," Mr Chawla says.
"They've always been extremely popular in India - a real craze because their designs are very unique, their colours are very bold and on top of it the quality is extremely good."
Fond memories
But it has not been easy to do business. Visas are not always easy to get, regulations not streamlined and every time there is political tension business takes a hit.
"We're neighbours so our relations need to be good. It helps the economy, and if the economy is good everything else is," Mr Chawla adds.
Trade between the two countries is valued at $2.6bn (£1.7bn) and steadily increasing. But India and China have set a trade target of $100bn by 2015.
Not surprisingly, it is the political relationship that dominates and defines how India and Pakistan view each other.
Since the Mumbai attacks of 2008, blamed on Pakistan-based militant groups, relations have been frayed.
India has fond memories of Mr Sharif - he signed a landmark accord in 1999 with India which was soon undermined by a border war and then the military coup which ousted him from power.
But many analysts are urging caution.
"His ability to deliver on critical issues which are relevant for India is not totally under his control at this point of time," says Commodore Uday Bhaskar, a retired naval officer who is now a security analyst.
Many believe that a lot will depend on Mr Sharif's relationship and control over the military.
But there is also concern over his perceived ties to radical Islamic groups.
"Even before becoming prime minister, Mr Sharif has already mortgaged some of his political capital by entering into a deal with the right wing," says Commodore Bhaskar.
"So if you say that he is now going to change Pakistan's policy towards terror, how does he square this with those who enabled him to become prime minister?" he adds.
'Fingers crossed'
Despite this, most are willing to give him a chance.
His victory has been greeted by Indian Prime Minister Manmohan Singh, who also sent a special envoy to meet Mr Sharif - even before he took office.
Even the principal opposition party, the Hindu nationalist BJP, is "cautiously optimistic".
"There is a degree of higher expectations with Nawaz Sharif," says party spokesperson Nirmala Sitharaman.
"We see a leader who has probably grown with the times, who has matured with experience and is able to understand the various factors that come into play in Pakistan.
"We hope this will enable him to handle the India and Pakistan relationship," says Ms Sitharaman.
So, all of India is watching and waiting to see how the Sharif administration unfolds.
And in his shop, Inderdeep Chawla is keeping his fingers crossed.
"Like me, he is a businessman and is a Punjabi. That should help," he says with a chuckle.