UN 'dismayed' over North Korea refugees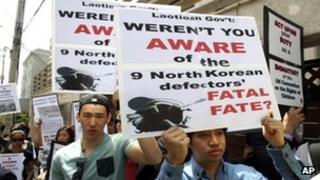 The UN says it is dismayed over reports that China and Laos forcibly repatriated nine young North Korean refugees back home on Tuesday.
The organisation said it had received "credible information" that the group were arrested in Laos, then returned to North Korea via China.
The group may face severe punishment, spokesman Rupert Colville says.
North Korean refugees tend to make their journey to South Korea by first heading to China.
However, China, North Korea's foremost ally, often returns North Korean refugees, ruling them economic migrants.
The group of nine youths, aged between 15 and 23, were arrested in Laos on 16 May and sent to China this week where they were put on a flight to Pyongyang, South Korea's Yonhap news agency reports.
UN officials and human rights groups have condemned the decision.
"We are dismayed that the governments of Laos and China appear to have abrogated their non-refoulement obligations, especially given the vulnerability of this group, all of whom are reported to be orphans," UN human rights spokesman Rupert Colville told reporters on Friday.
The international legal principle of "non-refoulement" protects victims of persecution from being returned to places where their lives or freedoms may be at threat.
"We are extremely concerned for the protection of this group, which includes up to five minors, who are at risk of severe punishment and ill-treatment upon their return," he said.
The UN says it has asked the Chinese and North Korean authorities for clarification over the fate of the refugees.
UN human rights chief Navi Pillay also requested the North Korean authorities provide independent and immediate access to the group.
Most North Korean refugees leave via China and head for nations in South East Asia, from where they can get to South Korea - which provides financial assistance and training.
However, the number of North Korean refugees arriving in South Korea dropped by 40% last year.
Activists say North Korean leader Kim Jong-Un is taking stronger measures to prevent people from trying to leave.