Pakistan's Sharif condemns US drone strike on Taliban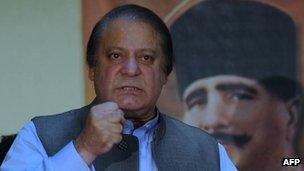 Pakistan's incoming Prime Minister, Nawaz Sharif, has condemned a suspected US drone strike which killed the Taliban's second-in-command.
Waliur Rehman reportedly died when a missile hit a house in the North Waziristan tribal region on Wednesday.
Mr Sharif, whose Pakistan Muslim League-N won this month's parliamentary election, expressed "serious concern and deep disappointment" at the strike.
Earlier, US Secretary of State John Kerry defended US drone attacks.
He said they were legal because the country was at war with al-Qaeda and the Taliban, adding: "Those strikes have saved lives".
But in a statement issued by the PML-N on Friday evening, Mr Sharif said: "The drone attack was not only a violation of the country's sovereignty and territorial integrity, but also an action that has been declared as a violation of international law and the UN Charter."
His concerns were conveyed to Richard Hoagland, deputy chief of mission at the US embassy in Islamabad, by a close aide of the former prime minister, the statement added.
Meanwhile, Pakistani military sources say 34 militants have been killed since Thursday in an operation in the Kurram tribal region, close to the Afghan border. Three soldiers were also killed, they said.
The Pakistani Taliban withdrew their offer of peace talks with the Pakistani government on Thursday after confirming the death of their deputy chief.
Rehman, who was accused of being involved in the 2009 bombing of a US base in which seven CIA agents were killed, was believed to be among at least six suspected militants killed on Wednesday.
The attack was the first since the election on 11 May, in which the PML-N won 177 of the 342 seats in the National Assembly.
Western leaders are keen to find out how the country's incoming prime minister will tackle militants on home soil.
Mr Sharif's party said it was "highly regrettable" that the strike came within days of US President Barack Obama issuing new guidelines for tighter scrutiny of the drone programme and stricter targeting rules.
Imran Khan's PTI party, which gained significant ground during the recent general election, released a strong statement also condemning the attack shortly after it happened on Wednesday. It said it would continue to oppose drone strikes.
"It shows hostile intent to the incoming government," a spokesman said. "Our party, the PTI, have opposed the use of drone strikes as has the PML-N.
"The wishes of the people of Pakistan and those of the newly elected leadership are being openly flouted by the USA even before that leadership has been sworn in."