Osaka mayor survives censure over sex slaves comment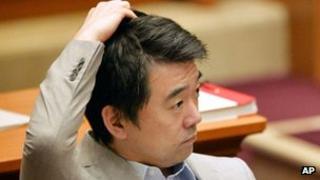 The mayor of the Japanese city of Osaka has survived a censure motion over his comments that Japan's sex slaves served a necessary role during World War II.
Osaka council members rejected the non-binding motion against Toru Hashimoto after a major party reversed its earlier stance and helped vote it down.
Earlier this month, Mr Hashimoto outraged Japan's neighbours by saying the "comfort women" had given Japanese soldiers a chance to "rest".
He has not withdrawn his remarks.
In an apparent attempt to clarify his position, he later said he meant that the military authorities at the time must have deemed the practice necessary.
Some 200,000 women on territories occupied by Japan during WWII are estimated to have been forced to become sex slaves for troops.
Many of the women came from China and South Korea, but also from the Philippines, Indonesia and Taiwan.
The Japanese government, which in 1993 issued a formal apology over the issue, has sought to distance itself from his comments.
Mr Hashimoto, a leading member of the nationalist Japan Restoration Party, has also apologised for suggesting US soldiers should use legal brothels as a way to curb sexual crimes in Okinawa.
Washington has denounced his remarks as "outrageous and offensive".