China anger over girl 'handcuffed' for spilling drink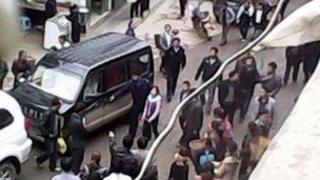 Two Chinese officials have been suspended after being accused of handcuffing and parading a 13-year-old girl down a street for spilling a drink on a government car, state media say.
The officials - a Communist Party chief and a police officer - reportedly forced the teenager to walk up and down for 20 minutes.
The incident has caused uproar on Chinese social networking sites.
Local officials have been accused of acting in a high-handed manner.
Growing phenomenon
A post on a micro-blogging site on Monday claimed the girl got into an argument with local officials in the county of Hezhang, Guizhou province, in April after accidentally splashing water onto a government car, according to China's state-run news agency Xinhua.
She was then reportedly handcuffed and paraded up and down a street.
Photographs appearing to show the handcuffed teenager have appeared on Chinese news sites.
Communist Party secretary Yuan Zehong and police officer Chen Song have been suspended from work for their involvement in the incident, Xinhua said.
It added that a team was now investigating the incident.
It comes as part of a growing phenomenon of Chinese internet users exposing information about officials perceived to have done wrong.
Social media sites such as Weibo, China's version of Twitter, have seen tremendous growth in the country in recent years and have become a powerful medium of discourse.
According to some Chinese news reports, Mr Yuan admitted that the girl had been handcuffed, but said she had not been paraded through the streets.
He said she had only been restrained with cuffs because police officers thought she was older than she was.