Pakistan Shia lawyer and sons shot dead in Karachi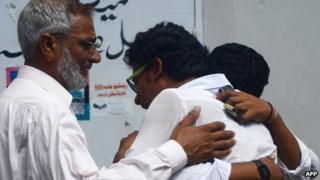 Gunmen in the southern Pakistani city of Karachi have shot dead a lawyer and two of his sons as he took them to school, police say.
They say that the family was targeted for its minority Shia faith.
Separately, a female anti-polio worker was shot dead in the north-western city of Peshawar, police said.
Two attackers on a motorbike opened fire on her team as it was administering polio drops on the outskirts of the city.
The killing is the latest in a series of attacks on vaccination teams.
Large-scale bombings
In the Karachi incident, police said that lawyer, Kauser Saqlain, was taking two sons aged 12 and 15 to school in the morning when gunmen on a motorbike opened fire on his car.
Lawyers in Karachi have strongly condemned their colleague's murder and boycotted court proceedings.
An extremist Sunni militant group, Lashkar-e-Jhangvi, has said it carried out the attack.
The BBC's Shahzeb Jillani, in Karachi, says that the group is known for its ties with al-Qaeda and Taliban militants in Pakistan's tribal north-west.
It has been accused of killing scores of Shia doctors and lawyers in Pakistani cities, besides carrying out large-scale bombings against the country's Shia Hazara minority in the south-western city of Quetta.
No group has yet said it carried out the Peshawar killing, but in the past the Pakistan Taliban has accused vaccination teams of being American spies and of sterilising children with the vaccine.
In December, at least eight people engaged in polio vaccinations were shot dead in Karachi and the north-west, and in January, February and April at least three police officers accompanying vaccine workers were killed in similar attacks.
Pakistan, Afghanistan and Nigeria are the only countries where polio is endemic. Polio cases in Pakistan hit 198 in 2011, the highest figure for more than a decade and the most of any country in the world, according to the UN.
UN officials say there are about 161,000 children in North Waziristan district alone who have not received a polio vaccine since June last year.