Overloaded Malaysian ferry capsizes in Borneo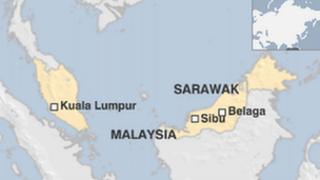 An overloaded ferry has capsized in a Malaysian river, leaving at least 21 people missing, police say.
At least 181 festival-going passengers were able to swim to shore or were rescued by villagers.
District Police Chief Bakar Sebau said the ferry, with women and children on board, was carrying more than its capacity of 74 people.
It was travelling through a remote river, the Rajang, in Sarawak on the island of Borneo when it hit rocks.
The ferry sank neat the town of Belaga, Malaysia's state news agency Bernama said.
"We believe some of them might still be trapped inside the boat," Mr Bakar was quoted by the Associated Press news agency as saying.