Japan boosts aid to Burma during PM Shinzo Abe visit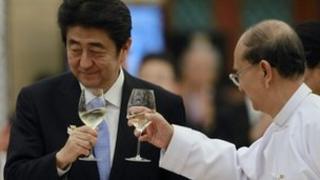 Japan has announced fresh loans to Burma and cancelled the remainder of its debt with the country, as Tokyo seeks to boost economic ties.
The announcement came during a visit by Japanese PM Shinzo Abe to Burma, where he had talks with President Thein Sein.
Mt Abe pledged about $500m (£330m) in new loans and wrote off $1.74bn of Burma's debt to Japan, officials said.
Japan, a key donor to Burma, maintained trade ties with the country during its years of military rule.
Correspondents say Mr Abe's visit - the first visit by a Japanese prime minister since 1977 - marks a further improvement in already warm relations.
Last year Tokyo cancelled $3.4bn of Burma's debt. Saturday's announcement means the outstanding debt has been written off as well.
The new loans will cover infrastructure development projects and power station maintenance.
On Saturday Mr Abe visited the site of a proposed port and business park which Japan and Burma are to develop jointly.
He also met opposition leader Aung San Suu Kyi.
Burma has undergone a programme of reforms since a nominally civilian government was installed in 2011.
Hundreds of political prisoners have been released, and censorship rules have been relaxed. The EU and US have lifted the majority of sanctions against Burma as a result.
However, Burma has experienced serious anti-Muslim violence in recent months.