Sonia Gandhi 'devastated' by India Chhattisgarh ambush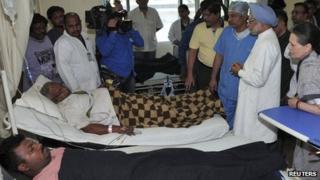 The president of India's Congress Party, Sonia Gandhi, has said she is "devastated" by Saturday's attack on party officials in Chhattisgarh state.
At least 24 people were killed, including Chhattisgarh Congress chief Nandkumar Patel, his son, and local leader Mahendra Karma, when suspected Maoist rebels ambushed their convoy.
Mrs Gandhi visited some of the wounded with PM Manmohan Singh on Sunday.
The prime minister said India would "never bow down" before the rebels.
He denounced the "barbaric attack" which he said should be an inspiration in the fight against extremism and violence.
Unconfirmed reports said they were unable to visit the scene of the attack because of security concerns.
'Firm action'
The convoy carrying state Congress leaders and party workers was ambushed at around 17:30 (10:00 GMT) on Saturday as it travelled through the Darba Ghati valley, in the Sukma area about 345km (215 miles) south of Raipur, following a campaign rally.
Police said the convoy was first forced to stop by felled trees on the road. At least one vehicle at the front of the convoy was then hit by a land-mine blast before as many as 200 suspected rebels opened fire, they added.
The main target of the attack is believed to have been Nandkumar Patel, who witnesses said jumped into a ditch with his son, Dinesh, to take shelter before they were abducted. Their bodies were later found nearby; the Congress chief was reportedly mutilated.
Mr Karma was found dead at the scene. A former home minister in Chhattisgarh, he founded the Salwa Judum, a local militia given the task of fighting the Maoists which has been accused of abuses.
Former federal minister Vidya Charan Shukla was among the 32 people wounded in the ambush, many of them seriously, police said.
He was taken to hospital outside Delhi where his condition was described as stable.
Mrs Gandhi denounced the "dastardly attack" on India's democratic values, words reiterated by the prime minister as they visited Raipur.
"Those who have lost their lives in this barbaric attack are martyrs of democracy," Mr Singh tweeted from Raipur, where many of the wounded are being treated.
Maoist rebels, also known as "Naxalites", have been operating in central and eastern India for the past four decades. They demand land and jobs for the poor, and ultimately want to establish a "communist society" by overthrowing India's "semi-colonial, semi-feudal" form of rule.
After attending an emergency meeting in Delhi with the prime minister, Mrs Gandhi described the attack in Chhattisgarh as "shocking".
"Naturally, we are devastated," she told reporters. "It is despicable that ordinary people engaged in political activity were attacked."
The prime minister had also spoken by telephone to Chhattisgarh Chief Minister Raman Singh and promised him all "necessary aid".
"Government will take firm action against the perpetrators of violence of any kind," he said in a statement.