Bhutan votes in first stage of key elections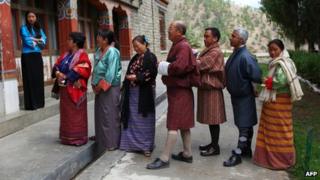 Voters in Bhutan are taking part in elections on Friday to determine which two out of four parties will go on to participate in the second and decisive stage of the vote on 13 July.
The winner of the July vote will form the government and the runner-up will become the opposition.
The election is the second to be held in Bhutan since the country became a constitutional monarchy in 2008.
There are 381,790 registered voters out of a total population of some 750,000.
The last election was held in March 2008, when Bhutan became a constitutional monarchy and the king relinquished his absolute powers.
This time around four parties are competing to enter parliament, compared to only two in 2008. It is the first time that an election has been staggered.
The two parties that win the fewest votes on Friday will be eliminated from the election.
Correspondents say that the government will have to fight a tough campaign if it is to repeat its landslide win in the last vote.
They say there is a degree of consensus about the key issues facing the country: To strengthen the economy, to narrow the income gap between rich and poor, to improve education and healthcare and to invest in roads and transport infrastructure.
The government has been damaged by the recent conviction of two ministers in a land scam.
The two new parties in the contest, the Druk Nymrub Tshogpa (DNT) and Druck Chirwang Tshogpa (DCT) are both led by women.
They will competing against the former ruling party, the Druk Phuensum Tshogpa (DPT) and the People's Democratic Party (PDP), the former opposition.
Correspondents say that the expectation is that the DPT led by Jigme Thinley will return to power with a reduced majority and with him remaining as prime minister.
In the last election the opposition could win only two out of the 47 seats up for grabs.