Parents quit Singapore probe into Shane Todd death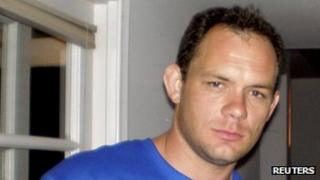 The family of a US man found hanged in Singapore have withdrawn from an inquiry into his death, saying they no longer have confidence in the system.
Shane Todd's death in June 2012 was registered as suicide, but his parents believe he was killed over a project related to sensitive technology.
Their withdrawal was announced on Wednesday, a day after they walked out of court, saying they had not had time to prepare for a new witness.
The probe will go on in their absence.
The coroner's inquiry is expected to close on 28 May, with a verdict on the cause of death due after that.
"We no longer have confidence in the transparency and the fairness of the system," a statement from the Todd family said. "It appears to us that the outcome has been pre-determined."
District Judge Chay Yuen Fatt said he respected the Todds' decision and that statements taken from them would be used as evidence.
The Todd family were angered by the introduction on Tuesday of a witness - said to be the last person to see Shane Todd alive - who they had not been able to vet properly.
The wrangle followed testimony from the Todds' key witness, a deputy medical examiner from Missouri in the US, who faced stringent questioning that saw him revise his position that Shane Todd could have been garrotted.
He maintained that the 31-year-old electronic engineer was likely killed - putting him at odds with four other experts, two Singaporean and two from the US, who concluded suicide was most likely.
Mr Todd had been employed at a state-owned research body at the time of his death. His parents say he was working on a project linked to China's telecoms giant, Huawei, involving sensitive semiconductor technology, and that his death was the result of foul play linked to the project.
Both Mr Todd's employer and Huawei have rejected this, saying they had been involved in preliminary talks on a project that did not get off the ground.
Mr Todd, who had suffered from depression in the past, has been described by witnesses as being under considerable stress in the weeks leading up to his death.