Afghan bomb: Policemen killed in Herat blast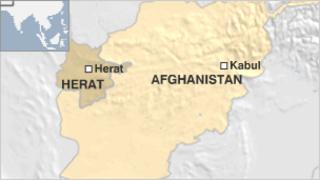 At least seven policemen have been killed by a roadside bomb in western Afghanistan, officials say.
The policemen were travelling in the Chashti Shareef district of Herat province when their vehicle was hit.
The officers were guarding the Salama Dam, which correspondents say is of great strategic importance.
Policemen guarding the dam have been targeted by militants before. There has been a recent escalation of attacks by Taliban in Afghanistan.
Tuesday's explosion was so strong that the vehicle was totally destroyed, district police chief, Sher Agha told the AFP news agency.
The BBC's Mahfouz Zubaide says that the Salama dam is an Indian-led project and has proved extremely important to the economy of Herat. Our correspondent adds that there has been a recent attempt to blow up the dam.
Most international troops are scheduled to leave Afghanistan by the end of 2014, and Afghan forces are due to take responsibility for security throughout country in the coming months.