Chinese man held in Kashmir over 'Koran desecration'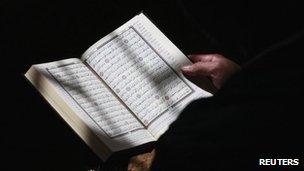 A Chinese man in Pakistani-administered Kashmir has been taken into protective custody after he was accused of desecrating the Koran, officials say.
The man, named only as Mr Lee, works for a Chinese consortium that is building a dam in Kashmir.
A police official told the BBC that Mr Lee was held to prevent him from being lynched by an angry mob.
Allegations of blasphemy are taken very seriously in Pakistan with a number of controversial recent prosecutions.
Kashmir's chief of police has assembled a committee of officials, politicians, local clerics and journalists to investigate the matter.
The police have not yet registered a case, saying they will wait for the committee's report.
This is the first time a foreigner has been accused of desecrating holy scriptures under Pakistan law, the BBC's Zulfiqar Ali reports.
An official in the town of Muzaffarabad, close to where the alleged incident took place, said that the accusation was linked to a dispute which had taken place between Mr Lee and a local doctor hired by the consortium.
Last week Mr Lee told the doctor, named as Dr Sajid, to relocate from one room to another in the workers' quarters of the compound, according to Muzaffarabad administration chief Ansar Yaqoob.
When Dr Sajid refused, Mr Lee got some local people to take Mr Sajjad's luggage out when he was not in the room, according to Mr Yaqoob.
Dr Sajid then told other employees that a copy of the Koran and some other religious books in his luggage were "thrown out" of his room.
Neither Mr Lee nor Dr Sajid could be reached for a comment.
Police said the local employees became angry, and were later joined by "hundreds" of residents of nearby villages.
An eyewitness said they stoned the compound, damaging some parts of the building and several vehicles.
Allegations of blasphemy and desecration of holy texts have frequently led to alleged offenders being killed by lynch mobs in Pakistan.
In 2011, two prominent politicians who spoke out against the blasphemy laws were assassinated in Pakistan.