Pakistan mosques hit by deadly blasts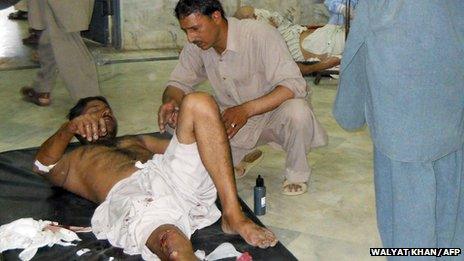 Two explosions in the Malakand region of north-west Pakistan have killed at least 13 people, officials say.
The bombs went off near two mosques in Bazdarra village, close to the tribal areas that border Afghanistan.
The Assistant Commissioner of Malakand, Abdullah Mashal, said more than 30 people were injured in the blasts.
He told the BBC that 15 of the injured were in a critical condition and being taken to hospitals in Mardan and Peshawar.
An eyewitness, Shahid Ali, told the Associated Press news agency that the explosions came just as Friday prayers were starting.
"Many people are buried under the rubble," he said.
No-one has yet claimed responsibility for the attacks.
Pakistanis voted in a general election on 11 May, with Nawaz Sharif of the Pakistan Muslim League set to become prime minister for a third time.