Bangladesh garment factories re-open after closure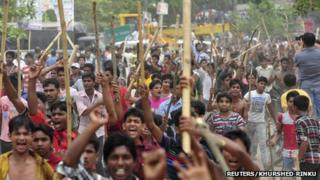 Garment factories near the Bangladeshi capital Dhaka have reopened after three days of closure following protests over pay and conditions.
The protests came after the collapse of a factory building in the Ashulia district last month in which more than 1,100 people died.
The Bangladesh Garment Manufacturers' and Exporters' Association says about 85% of employees were at work.
They will get overtime for working on a Friday, a weekend day in Bangladesh.
The manufacturers have accused the workers of disrupting production and say they will not pay wages for the last few days.
Badrul Alam, police chief for the Ashulia district, told the Agence France Presse news agency that there had been "no reports of any protest or violence" after the reopening.
Most of Bangladesh's clothing factories are in the Ashulia industrial area. The industry makes up more than three-quarters of the country's exports.
Workers in Ashulia had staged a walkout, demanding a salary increase, as well as the execution of the owner of the collapsed building.
At least 1,127 people were killed when the Rana Plaza collapsed on 24 April. The building housed a number of textile factories, some of which were supplying Western retailers.