New Taiwanese sanctions for Philippines despite apology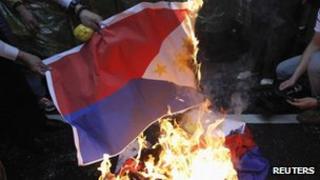 Taiwan has imposed more sanctions on the Philippines, despite an apology from the Philippine president for the killing of a Taiwanese fisherman in disputed waters.
Prime Minister Jiang Yi-huah called the apology unacceptable.
His government has issued a travel alert against the Philippines and announced plans to hold military drills in the South China Sea.
Earlier, Taiwan recalled its envoy and froze the hiring of Philippine workers.
Taiwan had also rejected an apology from the Philippines' top diplomat in Taipei and demanded a "formal apology" from Manila.
It had threatened more sanctions if a satisfactory response was not forthcoming, including issuing a travel warning to discourage Taiwanese people from visiting the Philippines, stopping all high-level exchanges and carrying out the military exercises.
The fisherman, Hung Shih-cheng, was shot by the Philippine coast guard last week in waters both sides claim.
'Lacked sincerity'
The new sanctions were announced on Wednesday evening when Taiwan's deadline for the Philippines to issue a satisfactory response expired.
Mr Jiang took particular objection to Philippine President Benigno Aquino's statement that the shooting was an "unfortunate and unintended loss of life," says the BBC's Cindy Sui in Taipei.
He demanded a better explanation why the unarmed fishing boat was sprayed with bullets, with holes found "in all corners".
Mr Jiang also reiterated earlier demands of compensation for the victim's family, an investigation of the shooting and punishment for those responsible, and starting bilateral fishing talks.
This diplomatic row brings to the fore the strained relations between the two sides and the longstanding frustrations Taipei has had over the treatment of its fishermen in disputed waters, our correspondent adds.
In recent years, several have been detained or had their boats confiscated, and at least one other fisherman has been shot dead.
President Aquino had sent Manila Economic and Cultural Office Chairman Amadeo Perez as his personal representative to "convey his and the Filipino people's deep regret and apology" to the fisherman's family, his spokesman Edwin Lacierda said in a statement.
Taiwan rejected a separate apology early on Wednesday from Antonio Basilio, head of the Philippine Representative Office in Taiwan.
Mr Basilio, whose apology came after a three-day deadline set by Taiwan expired, said that Manila had agreed to compensate the fisherman's family and conduct a joint investigation into the incident.
However, Taiwan's president felt the apology did not come from a high enough authority and lacked "sincerity", his spokeswoman said.
He suspended the processing of work visas for Filipinos and asked Mr Basilio to return to the Philippines to "help properly handle" the case.
'Honest living'
In Manila, Mr Lacierda earlier said the government had "already started" an investigation, and was committed to a "thorough, exhaustive, impartial and expeditious investigation".
"We understand the grief and hurt of the family and of the people of Taiwan over this unfortunate loss and we empathise with them," he added in the statement.
He urged Taiwan not to involve Philippine workers on the island, saying they were "working for an honest living".
There are about 88,000 Philippine migrant workers in Taiwan, most of whom work in the manufacturing sector.
Taiwan's labour office receives around 3,000 work applications from the Philippines each month.
Mr Hung, the 65-year-old fisherman, was shot dead on 9 May when the coastguard vessel opened fire on his boat.
He was in waters south-east of Taiwan and north of the Philippines, an area considered by both countries to be their 200 nautical mile-from-shore exclusive economic zone.
The Philippine coastguard said its crew believed he was trying to ram their vessel, claims the Taiwanese fishermen have denied.
Maritime tensions in the South China Sea have been heightened in recent months. China, Taiwan, the Philippines, Malaysia, Vietnam and Brunei have competing territorial claims in the region.
These disputes have existed for years but in recent months China has been taking a more assertive stance - prompting a robust response from some nations.